MUSIC AS A MEDIUM FOR MINDFULNESS
Tuesday, August 23, 2022
6:30-8PM
THE CHINA TRADE:
RACE, RELATIONSHIPS, AND RECONCILIATION
Event recording now available
The China Trade: Race, Relationships, and Reconciliation [Hybrid Event] in collaboration with The Forbes House Museum

Thurs. May 12, 7:00-8:30 PM
Milton Public Library Keys Room and on ZOOM

Join us for a Courageous Conversation and panel discussion exploring the complex business and personal relationships of the Forbes family with Chinese partners during the China Trade and beyond, and the lasting legacy of the opium business on relationships and communities.

We will hear perspectives on the dynamics and intersections of race, class, and nationality over time, and how the Forbes family's role has changed and evolved in the generations beyond.
https://us02web.zoom.us/rec/play/fDN_8-IuVe1KgBtquSBn8kRv-hQNtSmwk7WC7gnNn-Io5dGxNPGa7SsutoMMKohli9-xE2OICnLvc_2w.1OZf6_tfmeusiDUT

Passcode : ?hcm3b8X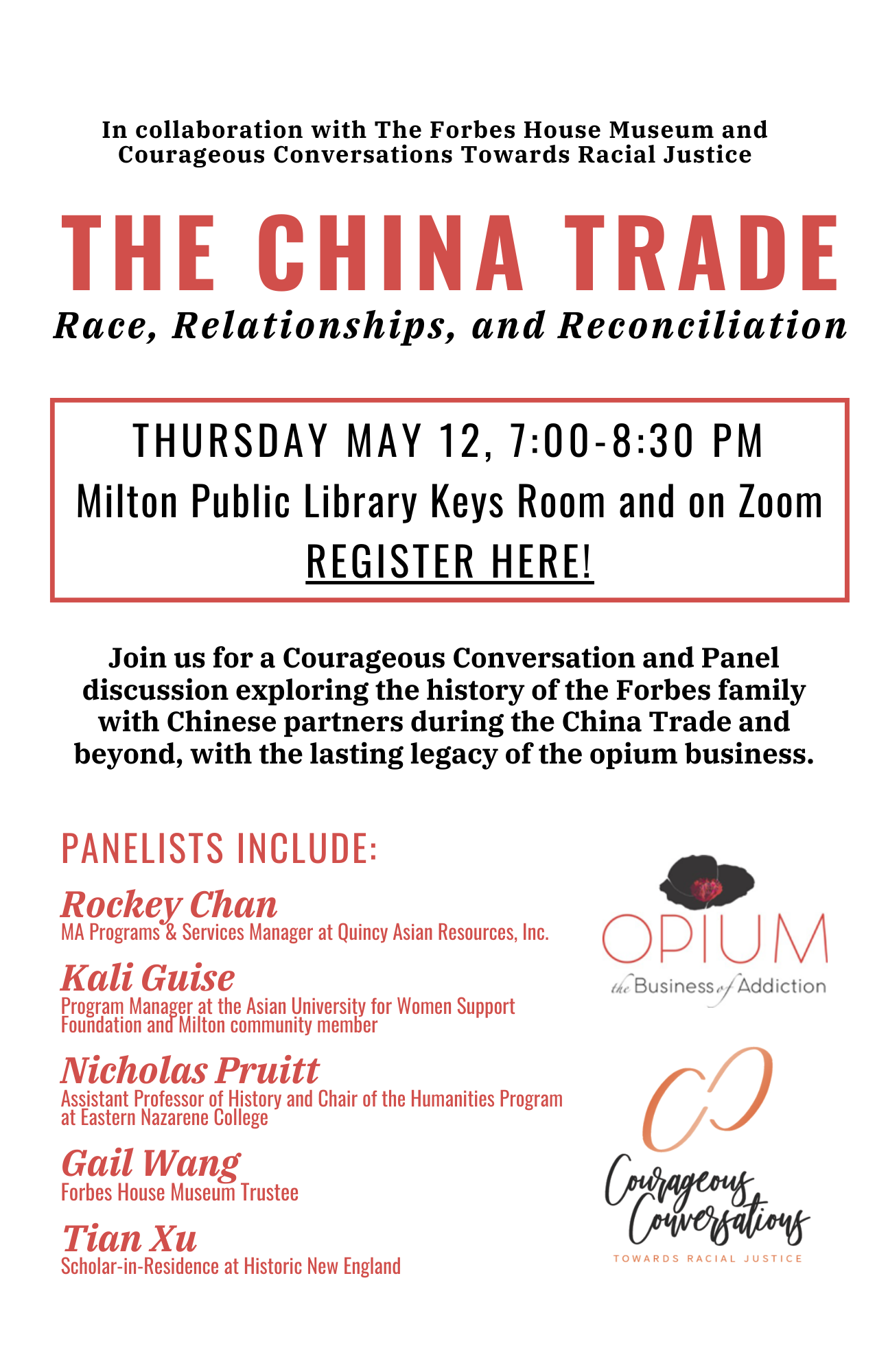 BRINGING COURAGEOUS CONVERSATIONS TO YOUR ORGANIZATION
Courageous Conversations Towards Racial Justice has been providing consulting to many communities and organizations throughout our region since 2019.
If interested in learning more about our consulting please email us at courageousconversationsmilton@gmail.com

At a recent Mass Nonprofit Network conference, we brought four of those communities together to talk about how their courageous conversations are going, what they are learning and what their growing edges are.  
ANTI-RACISM DAILY
A free, daily newsletter
CONVERSATION WITH MPS REGARDING HATE SPEECH INCIDENTS IN MILTON
Recorded December 16, 2021
We believe that racism impacts all of us and operates in our community, country, and world on a personal and systemic level.
We believe this movement will be fostered through the hard work of personal transformation.
Our goal is to participate in understanding, interrupting, and ending systems of white supremacy culture and racism.