Courageous Conversations Towards Racial Justice - Milton, Mattapan, Quincy, and more.
A monthly series of dialogue-centered events on racism and privilege in society designed to address racial healing, equity, and justice.
The Neponset Neighbors Together Fund ("NNTF") is a collaboration among United Way, the Town of Milton, and the Boston neighborhoods of Mattapan, Dorchester and Hyde Park through Boston City Councilors Andrea Campbell and Ricardo Arroyo, the Milton Interfaith Clergy Association, and Courageous Conversations Toward Racial Justice Milton-Mattapan, to establish a COVID-19 Fund to support neighbors of Milton, Mattapan, Hyde Park and Dorchester, who are adversely impacted by the current health crisis.
Since the Fund launched in late May over $75k has been distributed to our neighbor agencies to support families deeply impacted as a result of the COVID-19 crisis. United Way seeded over half of that fund support and the rest is community funds raised. Here is the list of agencies supported thus far. Please note the Milton Food Pantry and Milton Residents Fund have deferred support thus far feeling they are adequately funded at this time.
- Harbor Health Food Pantry
- Hyde Park Emergency Food Pantry
- Catholic Charities Dorchester
- Codman Sq. CDC
- ABCD Mattapan
- Quincy Community Action Program -Milton fund
Funds have gone to support food insecurity, supplies and other household needs, rental/mortgage and utility support as well.  Thank you to all who have stepped up to support neighbors at this most critical time.  We are grateful. Here is an inspiring story of community fundraising support.  Tremendous thanks to Fran Karoff and her yoga community!
When Great Trees Fall
by Maya Angelou
When great trees fall,
rocks on distant hills shudder,
lions hunker down
in tall grasses,
and even elephants
lumber after safety.
When great trees fall
in forests,
small things recoil into silence,
their senses
eroded beyond fear.
When great souls die,
the air around us becomes
light, rare, sterile.
We breathe, briefly.
Our eyes, briefly,
see with
a hurtful clarity.
Our memory, suddenly sharpened,
examines,
gnaws on kind words
unsaid,
promised walks
never taken.
Great souls die and
our reality, bound to
them, takes leave of us.
Our souls,
dependent upon their
nurture,
now shrink, wizened.
Our minds, formed
and informed by their
radiance,
fall away.
We are not so much maddened
as reduced to the unutterable ignorance
of dark, cold
caves.
And when great souls die,
after a period peace blooms,
slowly and always
irregularly. Spaces fill
with a kind of
soothing electric vibration.
Our senses, restored, never
to be the same, whisper to us.
They existed. They existed.
We can be. Be and be
better. For they existed.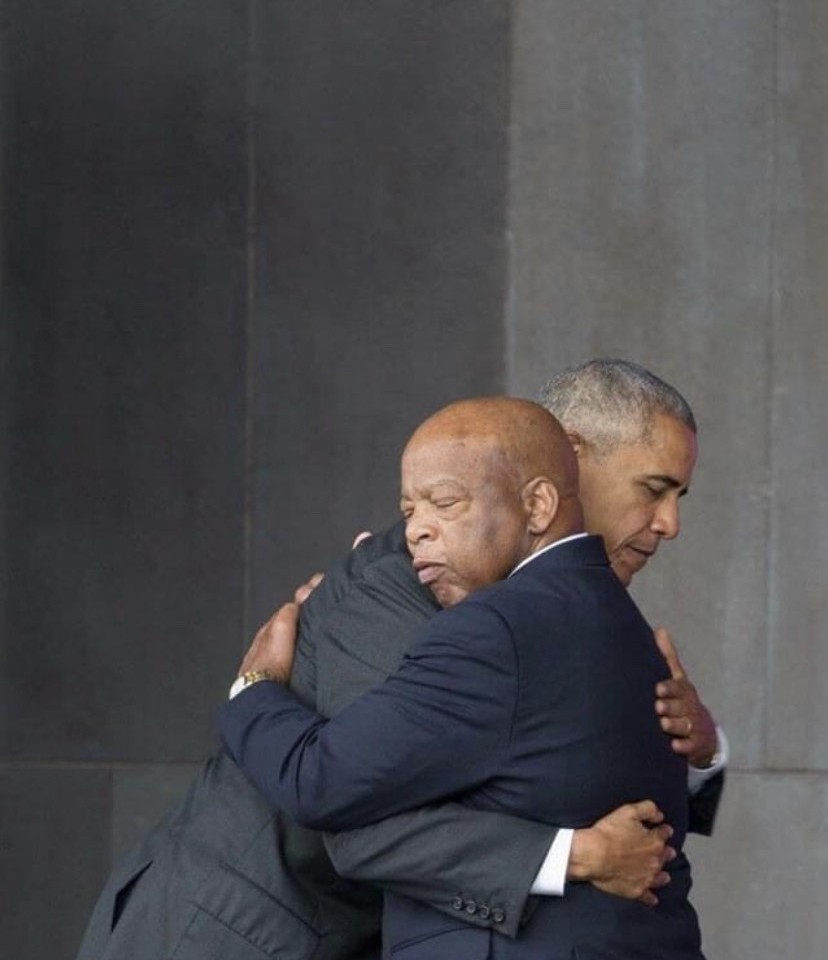 "Do not become bitter or hostile. 
Be hopeful, be optimistic. 
Never, ever be afraid to make some noise and get in
good trouble, necessary trouble. 
We will find a way to make a way out of no way."


John Lewis, may he Rise in Power!
Waking Up White: Books Groups
Join us as we again read and discuss this important journey into discovery around racism, privilege and history.
We will reach three chapters per week and offer you a choice of two facilitated discussion groups. Please join the one that best fits your schedule. We will accommodate the first 25 registrants per group.
Thank you to Tom Pilla from Milton Access TV and Milton for Social Justice Storytellers for the Milton Stand Out video!
We believe that racism impacts all of us and operates in our community, country, and world on a personal and systemic level.
We believe this movement will be fostered through the hard work of personal transformation.
Our goal is to participate in understanding, interrupting, and ending systems of white supremacy culture and racism.