BACKYARD BLUES FOR DEMOCRACY
Saturday, September 24, 2022
5 Verndale Rd, Milton
6:30-9:30PM 
Raindate Oct 8th
DRUMFOLK
Sunday, October 16, 2pm
THEY TOOK THE DRUMS AWAY, BUT THEY COULD NOT STOP THE BEAT.
On Sunday, October 16 at 2:00 join members and friends of CCTRJ to attend the ArtsEmerson sponsored production of Step Afrika's Drumfolk.  Orchestra tickets are available for $35, Students $25 or Pay What You Can. The performance is 1 hour and 45 minutes and carpools are being arranged from First Parish UU Church in Milton or Walgreen's Parking Lot on Morrissey Blvd. 
When Africans lost the right to use their drums, the beats found their way into the body of the people. Inspired by the Stono Rebellon of 1739 and Negro Act of 1740, Drumfolk is a thrilling, percussive exploration of American history, placing a spotlight on the rhythmic cycle of life that bonds all of us together.
Step Afrika! have been called "masters of stepping" by the New Yorker and "electrifying talents" by the New York Times. Through music, stepping, tap, and ring shouts these remarkable performers recreate histories too often left in the margins. After their celebrated prior visits to Boston (The Migration, Step Afrika!), the troupe returns this fall with a celebration of the human spirit perfect for the entire family.
Step into history, step into Drumfolk!
REGISTER HERE: https://forms.gle/VMPqadUo3MfBmqiD6
MUSIC & SPOKEN WORD
WITH DZIDZOR
Sunday, October 23, 7-8:30pm
CCTRJ BOOK GROUP
THE FENCE, BY DICK LEHR
October 25 and November 15, 7-8:30pm
This is the chilling story of violence against a police office by other police officers and the subsequent cover-up.  The police officer beaten was Michael Cox, Boston's current police commissioner. 

Join us on Zoom, Tuesday nights 10/25/22 and 11/15/22 from 7:00pm to 8:30pm.
Register Here
The Fence is available as an Ebook from Milton Public Library and can be purchased on Amazon. We will also have some for purchase at the CCTRJ table at Celebrate Milton on 10/2 from 12:00 to 4:00 PM. 

Your CCTRJ Book Group Hosts, Debbie Alsebai, Annette Correia, Ann Hunt and Pat Neves 
WHERE HAS WHITE GUILT LED ME?
BY BETSY DISHAROON
September 2022 Blog
I am a Southern gal by birth. These are strong roots. I am proud of their many facets: the warm hospitality and friendliness, the deep sense of family and rootedness, my family history of strong women, and many more. But I am not proud of the cultural history of slavery of the past and the racism which still exists. Even though at times I understand, yet don't condone, how open the Southern version of racism is compared to New England's subversive form.
My lack of pride is deep and actually is overwhelmed by guilt and perhaps shame. Psychologists prefer to distinguish between these two emotions with shame being the more unpleasant feeling of "I am bad" and guilt being behavior related such as "I have done something bad." Distinguishing the two can be difficult but this writing shares what these emotions plant in my psyche.
Shame about my culture of origin has led me to first cringe and claim "I did not own slaves" and then, on the other hand, be proud my family fought for the integration movement in our school system. So both negative (avoidance) and positive (motivation) mechanisms have occurred simultaneously. Whereas, guilt has raised its ugly head related to my White privilege and what a "White life" I have led for six decades.
All of these emotions are strong motivators and act as guideposts to direct my actions and focus. Awareness and a sense of familiarity with these emotions came in two stages. The first happened when I found myself in a meditation group in which I was one of only two white middle class participants. The remaining members were from marginalized populations due to their color, class and/or ethnicity. My white privilege slapped me in the face! Guilt regarding my belated awakening was the prominent reaction. It took me more than fifty years to find myself becoming close with people so different from myself and yet the same in so many ways. Frequently I questioned my behaviors or attitudes, attempting to check my privilege at the door. I cannot say it was easy or consistently successful but I can say it was overall a delicious environment to experience.
This first stage being birthed in this meditation group was likely a substantial motivator to join Courageous Conversations Toward Racial Justice-Milton/Mattapan several years later; thus, entrance to stage two of awareness. 
Many phases of challenge came next. My perfectionism shone brightly and required curbing often. Admitting "I don't know" took humility. Being overly concerned about offending others prevented honesty and many other discomforts. All of these, and others, were steps toward growth but often required contortions of the ego. Revisiting these stages still occurs today and during these more recent times the presence of a strong sense of connection and support from my fellow travelers of all races and ethnicities always shines through. The sense of belonging to a group who diligently questions, discusses, explores feelings, motivations, biases, and behaviors is so affirming and strengthening. Authenticity is a goal-only sometimes reached but always a goal.
Sociologists and psychologists claim guilt can be a motivator while shame leads to withdrawal and negation. Applying this, the conclusion can be made that my guilt is stronger than my shame. If my guilt is my motivator then it is cherished for leading me on this path of expanding my self awareness, my community awareness, and connection with many others whom I am profoundly grateful to have in my life.
OUR MAY '22 EVENT
THE CHINA TRADE:
RACE, RELATIONSHIPS, AND RECONCILIATION
Event recording now available
The China Trade: Race, Relationships, and Reconciliation [Hybrid Event] in collaboration with The Forbes House Museum

Thurs. May 12, 7:00-8:30 PM
Milton Public Library Keys Room and on ZOOM

Join us for a Courageous Conversation and panel discussion exploring the complex business and personal relationships of the Forbes family with Chinese partners during the China Trade and beyond, and the lasting legacy of the opium business on relationships and communities.

We will hear perspectives on the dynamics and intersections of race, class, and nationality over time, and how the Forbes family's role has changed and evolved in the generations beyond.
https://us02web.zoom.us/rec/play/fDN_8-IuVe1KgBtquSBn8kRv-hQNtSmwk7WC7gnNn-Io5dGxNPGa7SsutoMMKohli9-xE2OICnLvc_2w.1OZf6_tfmeusiDUT

Passcode : ?hcm3b8X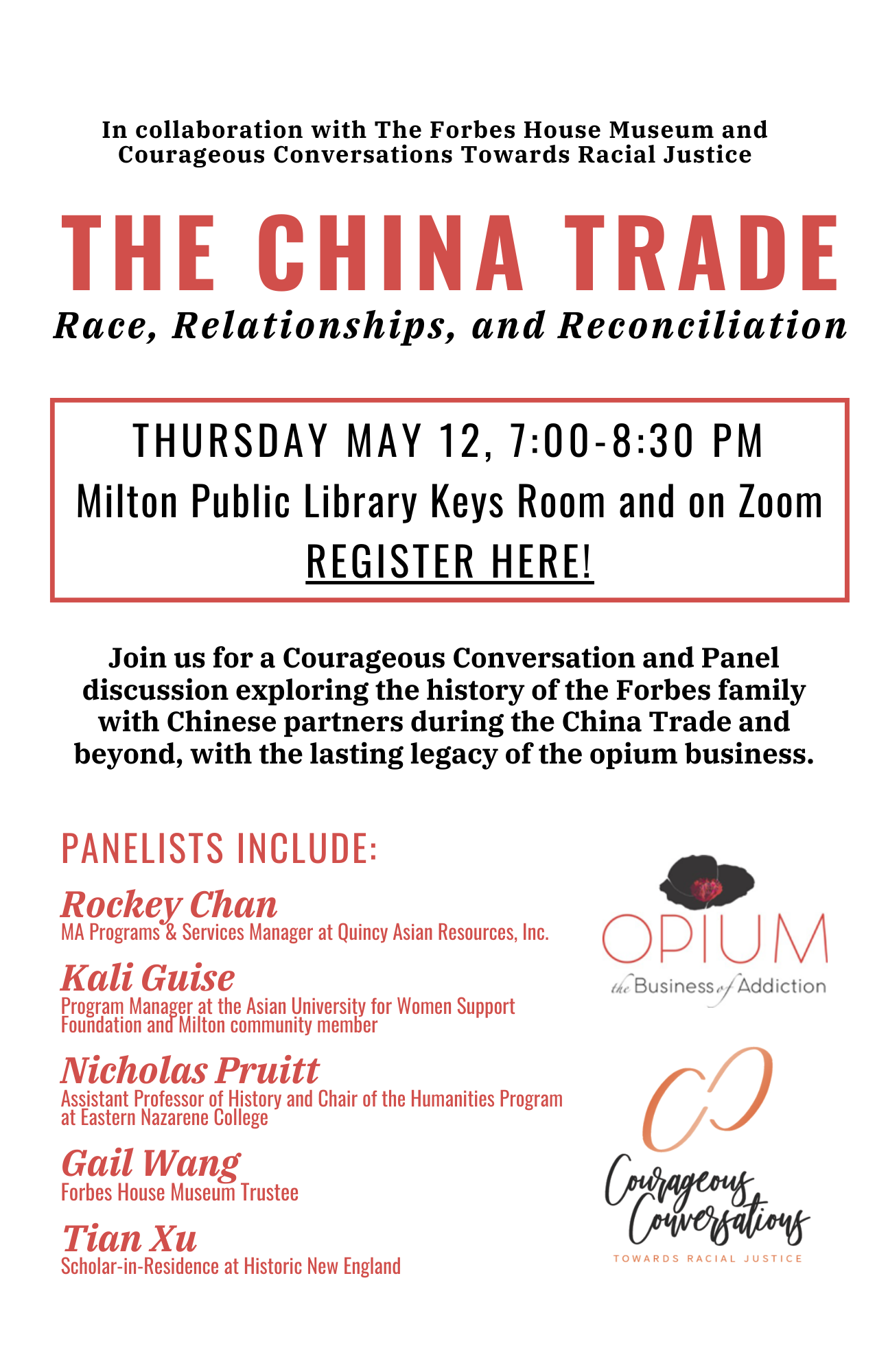 BRINGING COURAGEOUS CONVERSATIONS TO YOUR ORGANIZATION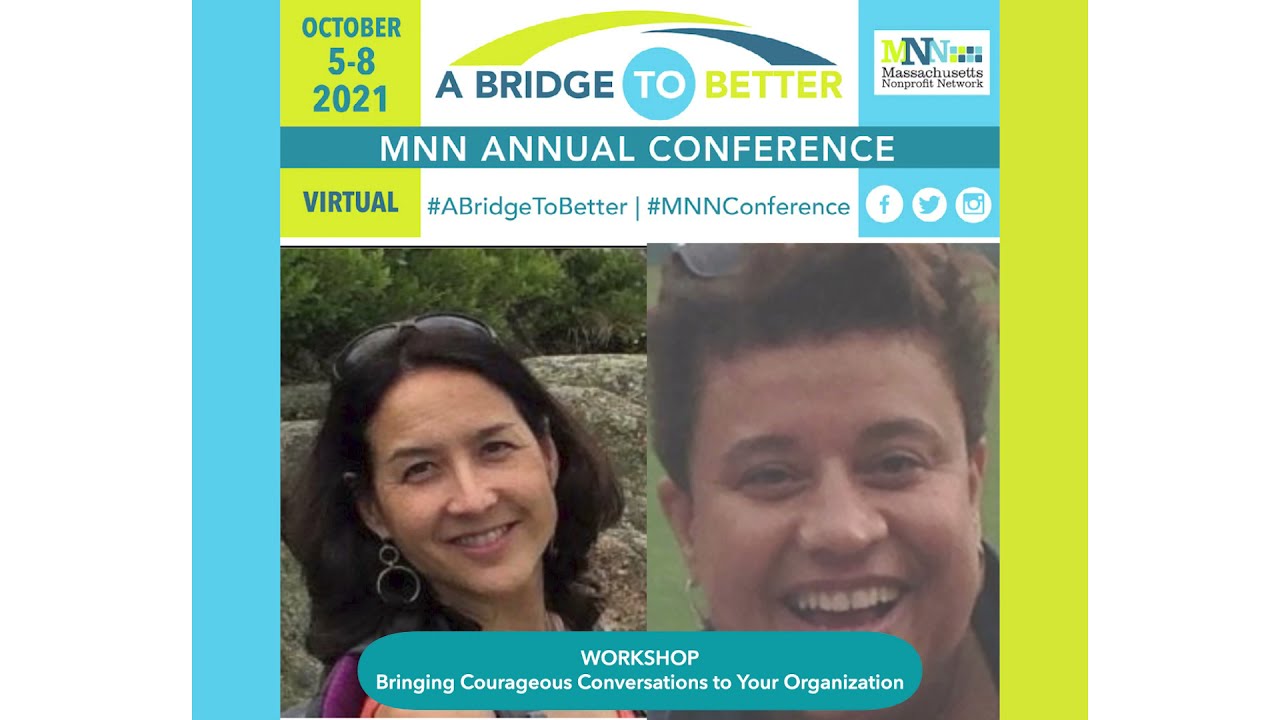 Courageous Conversations Towards Racial Justice has been providing consulting to many communities and organizations throughout our region since 2019.
If interested in learning more about our consulting please email us at courageousconversationsmilton@gmail.com

At a recent Mass Nonprofit Network conference, we brought four of those communities together to talk about how their courageous conversations are going, what they are learning and what their growing edges are.  
ANTI-RACISM DAILY
A free, daily newsletter
CONVERSATION WITH MPS REGARDING HATE SPEECH INCIDENTS IN MILTON
Recorded December 16, 2021
We believe that racism impacts all of us and operates in our community, country, and world on a personal and systemic level.
We believe this movement will be fostered through the hard work of personal transformation.
Our goal is to participate in understanding, interrupting, and ending systems of white supremacy culture and racism.